Criminal Law Defense
Benson Law Firm has been representing clients charged with crimes for more than 24 years. The types of crimes range from the most serious class "Y" felonies to misdemeanors and traffic violations. Benson Law Firm is dedicated to vigorously protecting your rights and preserving your freedoms if you are the subject of a criminal investigation or if you have been charged with a crime. Your initial visit with Benson Law Firm concerning criminal defense is free. Benson Law Firm provides criminal defense by retainer fee once you make the decision that you want to put the experienced and vigorous representation of Benson Law Firm to work for you. This fee can be discussed at your free initial consultation.
- What We Do:
Protect you! The attorneys at Benson Law Firm have experience dealing with the full range of criminal charges. Benson Law Firm's pledge to you is to use the experience of its attorneys and all available resources to pursue a determined goal. Benson Law Firm will work diligently to discover the case against you and develop the proper defense. Benson Law Firm will creatively explore all possible avenues for a positive resolution of the charges against you.
- Right to Remain Silent: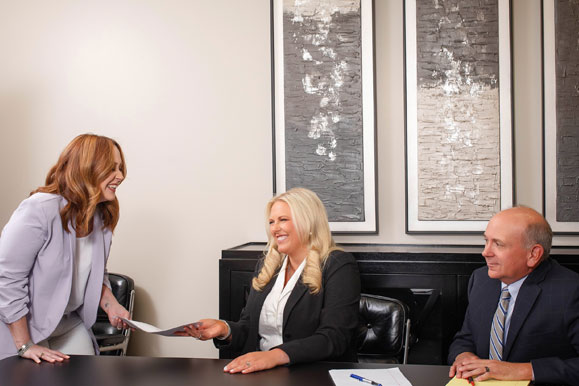 It cannot be stressed enough that Benson Law Firm recommends that you consult with an attorney at your earliest convenience if you are charged with a crime or if you are the subject of a criminal investigation. You have heard it said numerous times in the movies and on TV – "you have the right to remain silent and anything that you say can and will be used against you." Both parts of this statement are absolutely true.
You have the right to remain silent.

The 5th Amendment to the United State Constitution provides you protections against self incrimination. However, you can incriminate yourself in a variety of ways.
Until you consult with an attorney, do not be persuaded that you can get yourself out of trouble by explaining or giving your version of an incident.

What you say can be used against you.

Anything that you say can be used in any way to try and convict you.
- Fee:
Your initial visit concerning a criminal charge will not cost you a penny. If you decide that it is in your best interest that Benson Law Firm represent and protect you, then charges for services can be by a flat fee or a retainer fee. Flat fees are mainly for misdemeanor charges. A retainer fee is usually required if you are charged with or are being investigated for a felony. We can discuss the fee at your initial consultation. Contact Benson Law Firm now so that Benson Law Firm can begin investigating your case and preparing your defense.
CALL US TODAY
to schedule your free consultation!